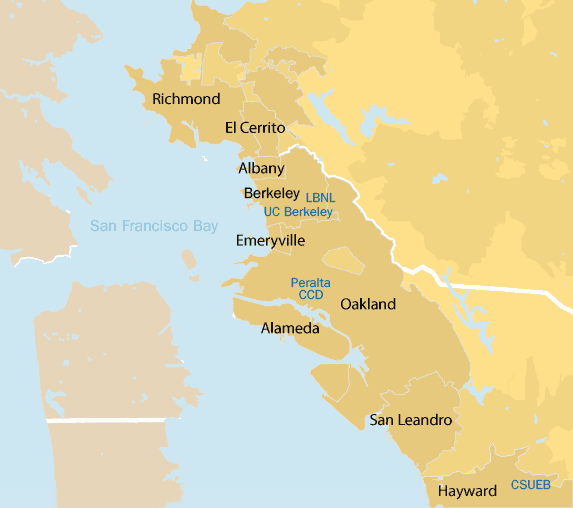 Mouseover a city on the map for unique feature.
About Us » Cities
City of Alameda - The City of Alameda offers premier commercial sites and unique resources to help companies control costs and enable growth. The City's municipal electric utility company provides low electricity rates and reliable service with over 80 percent of electricity generated by renewable resources. It is the only green-certified utility in the Bay Area. Employers find that Alameda's safe, small-town working environment, exceptional public school system, and short commutes to San Francisco and the East Bay are tremendous recruiting advantages. Alameda is located less than 10 minutes from Oakland International Airport for convenient business travel.
Eric Fonstein
City of Alameda
Development Manager
efonstei@ci.alameda.ca.us
(510) 747-6895
City of Albany - With 17,000 residents Albany is a family oriented community and home to a diverse population of university and business professionals. Albany enjoys award winning public schools and a highly prized "small town ambiance." Small businesses abound on Solano and San Pablo Avenues, providing local services, restaurants and coffee shops. The City's redevelopment area runs north-south along Interstates 80 and 580, a high visibility location between two of California's busiest freeways. Larger retail, light manufacturing, auto sales, and other industrial land uses are accommodated in this area. The City encourages entrepreneurs in "clean and green" research to consider this area for startups, small manufacturing, wholesale or retail sales.
City of Albany
Penelope Leach
Assistant City Manager
pleach@albanyca.org
(510) 528-5710
City of Berkeley - The City of Berkeley is home to UC Berkeley and Lawrence Berkeley National Laboratory. These world class institutions give rise to one of the City's greatest assets - a highly educated labor pool with two thirds of adults having a B.A. or higher. Berkeley is known as a cultural hub with a terrific quality of life and a fertile environment for cutting edge entrepreneurship. More than 300 environmentally-focused firms are located in Berkeley. The community incubates many of the startups that grow out of UC Berkeley and Lawrence Berkeley National Laboratory. Proximity to world class researchers and emerging talent make Berkeley a seedbed for growth in the Green Corridor.
City of Berkeley
Michael Caplan
Director of Economic Development
mcaplan@cityofberkeley.info
(510) 981-2490

Gregory Magofña
Office of Mayor Tom Bates
City of Berkeley
510-981-7103
gmagofna@cityofberkeley.info
City of El Cerrito - Centrally located in the East Bay and served by two BART stations, El Cerrito enjoys a close connection to the entire Bay Area. I-80, BART and AC Transit link El Cerrito with San Francisco, UC Berkeley, Oakland, and other Green Corridor cities. Many planned or active development projects center on San Pablo Avenue, the lively commercial corridor shared with neighboring communities. A fresh look is blossoming on San Pablo, thanks to the City's three-year, $7.5 million streetscape enhancement. Small-town friendliness, vibrant urban energy and the can-do attitude at City Hall provide what's needed to grow businesses in El Cerrito.
City of El Cerrito
Melanie Mintz
Environmental Services Manager
mem@ci.el-cerrito.ca.us
(510) 215-4339
City of Emeryville - The City of Emeryville is centrally located at the eastern landing of the Bay Bridge, in the heart of the Bay Area. It is a proven, high quality business location, home to major corporations and innovative growth industries. Emeryville's entrepreneurial approach to business development supports green technologies. The City has a Sustainability Element in its General Plan and a Climate Action Plan, which identifies how the City can incentivize green job creation, help businesses conserve energy, and develop renewable energy facilities. To date, the City has 25 green certified businesses and 1.8 million square feet of commercial building that are either LEED certified or registered with the US Green Building Council.
City of Emeryville
Helen Bean
Director Economic Development and Housing
hbean@ci.emeryville.ca.us
(510) 596-4355
City of Hayward - As Alameda County's third largest city, Hayward boasts a diverse commercial and industrial base by being home to more than 50 Bio Science and 80 Food Manufacturing companies. Hayward is regionally known as the "Heart of the Bay" and at the center of the heart is Cal State East Bay, which prepares graduates to be the Bay Area's innovative workforce of tomorrow. Hayward has been recognized for its Climate Action Plan, its Green Building Ordinance, one of the most energy efficient wastewater treatment plants (due to a 1MW solar facility), and prioritizes being "Safe, Clean, & Green."
City of Hayward
Micah Hinkle
Economic Development Manager
Micah.Hinkle@hayward-ca.gov
(510) 583-5546

Paul Nguyen
Economic Development Specialist
Paul.Nguyen@hayward-ca.gov
(510) 583-5542

Ramona Thomas
Economic Development Specialist
Ramona.Thomas@hayward-ca.gov
(510) 583-5541
City of Oakland - Consistently ranked among the top 10 major U.S. cities for overall sustainability, Oakland is the largest city in the Green Corridor and the entire East Bay region. Strengths that Oakland brings to the Partnership include a vibrant, Smart Growth oriented downtown; a dynamic business sector populated by over 200 green and sustainable businesses with a highly educated workforce; diversified industrial facilities that collectively comprise both a California Enterprise Zone and a Recycling Market Development Zone; a convenient, bustling seaport and airport; and easy access to federal, state, and county government agencies.
City of Oakland - Office of the Mayor
Aliza Gallo
Urban Economic Coordinator
AGallo@oaklandnet.com
(510) 238-7405

Steve Lautze
City of Oakland
Office of Economic Development
SLautze@oaklandnet.com
510-238-4973
City of Richmond - Richmond's location is its biggest economic asset with easy access by highway, rail, sea and air. Two interstate freeways (I-80 and I-580), Amtrak, BART, AC Transit, the BNSF and Union Pacific railroads, and a deep-water port all connect the City to regional, national and international markets. Richmond is minutes away from the Oakland and San Francisco airports, UC Berkeley, and Marin County. Prominent green businesses, including Heliodyne, SunPower, SunPrint and SunWater Solar form a cleantech hub in Richmond's up and coming Marina Bay neighborhood. These businesses benefit from Richmond's prime commercial/ industrial space, a skilled workforce and Enterprise Zone (EZ) tax credits.
City of Richmond - Office of the Mayor
Alex Knox
Director of Community Relations
Alex_Knox@ci.richmond.ca.us
(510) 620-6503
City of San Leandro - San Leandro has charming downtown shops, safe affordable neighborhoods, and a highly-responsive City government. The City's business development team offers site location assistance and one-stop permitting and one of the lowest business license fees in the Bay Area. San Leandro's infrastructure now boasts a state-of-the-art fiber optic loop that offers broadband users a high-performing, flexible, secure network with the capacity to carry up to 10 gigabits per second. With over 500 manufacturers and 33 million square feet of industrial, office, and R&D space, San Leandro is a regional hub for the production and design of electronics and computer components, specialty foods, precision machining, transportation equipment and bio-technology. Two major freeways, two BART stations, AC Transit, the Union Pacific Railroad, and proximity to Oakland Port and Airport make San Leandro ideal for businesses.
City of San Leandro
Jeff Kay
Acting Economic Development Manager
JKay@sanleandro.org
(510) 577-3319